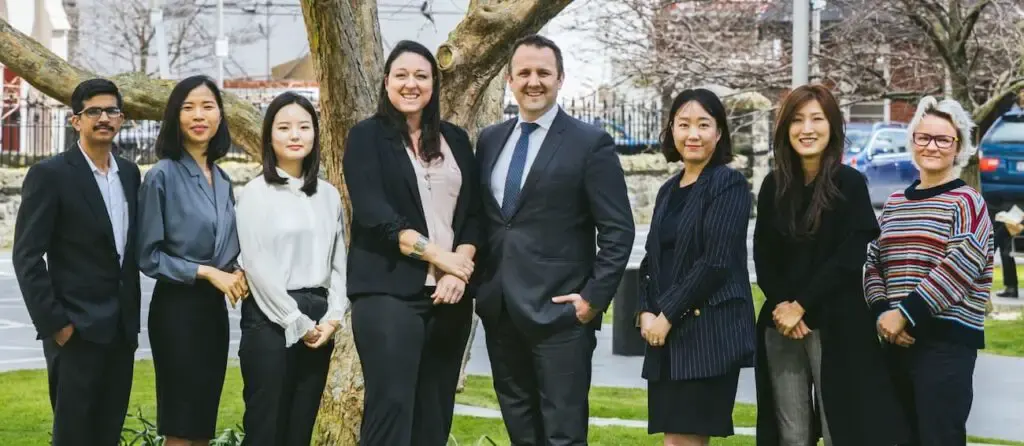 Immigration law can be a minefield, especially if you're unfamiliar with the New Zealand system. If your case isn't a straightforward one, it's best to involve a professional. In New Zealand, Immigration Lawyers and Immigration Advisers are the only ones qualified to give Immigration advice and help clients with applications. But how do you find the best ones?
The top Immigration Lawyers you can find in Auckland: 
Immigration Chambers Auckland
Immigration Law Experts
McClymont & Associates
Jag Lal Immigration Lawyer
Immigration Trust
James McLeod Immigration Lawyer
Studywel Immigration Solutions Ltd
We have researched the most brilliant lawyers who are compassionate about their work and give their clients the best offers only. Keep reading to find answers to all your questions in one place! 
How much does immigration to New Zealand cost?
Do you need an Immigration Lawyer?
Before you go ahead and hire an Immigration Lawyer, it's good to know whether you need one at all. Immigration to New Zealand isn't an easy process, and we understand that, but it doesn't mean you necessarily have to work with a lawyer.
An Immigration Lawyer will be helpful for someone with a more complex case, e.g. you have a criminal record, your age is close to the maximum limit, or you have health issues. These are the main aspects of why Immigration New Zealand might reject your visa or residency application.
Also, complex cases involving a Deportation Liability Notice, an appeal to the Immigration and Protection Tribunal (IPT), or claiming refugee status will require the help of a professional lawyer.
Besides, suppose you're applying for a simple visa with fewer requirements (such as a visitor visa or working holiday visa) or any other short-stay visa. In that case, you can easily do so online and without a lawyer. However, if you're applying for a more complex visa (such as an essential skill work visa or a residence visa), you may want to consider hiring an Immigration Lawyer.
If you only need a visa application or advice, you can work with one of many Immigration Advisers. They provide similar services.
Here's why:
Immigration Lawyers have a deep understanding of New Zealand immigration law. 
They often have connections in the industry.
They can help you ensure that your visa application is complete and accurate. This is important because even a small mistake can lead to your application being denied or delayed.
Immigration Lawyers can represent you at immigration interviews. This can be especially helpful if you're not fluent in English or if you're not familiar with the immigration process.
Immigration Lawyers can appeal a visa decision if your application is denied. 
In hard cases, immigration to New Zealand can be a long and complex process, and it's important to have an experienced lawyer on your side.
Of course, hiring an Immigration Lawyer comes with its cost:
Expensive. The fees for NZ Immigration Lawyers vary depending on the complexity of the case and the experience of the lawyer. You can expect to pay between $2,000 and $5,000 for a standard visa application. More complex cases (such as appeals or judicial reviews) can cost much more.
Takes a long time. Immigration lawyers can take a long time to process your visa application. This is especially true if your case is complex or if there are delays in the immigration system.
There's no guarantee of success. Even with the best Immigration Lawyer, there's no guarantee that your visa application will be approved. The decision of whether or not to grant a visa is ultimately up to Immigration New Zealand.
When searching for the best Immigration Lawyer in Auckland, follow these essential steps. First, ask friends or colleagues for recommendations, conduct thorough research online, and read through client reviews and testimonials. 
Next, ensure the lawyer specializes in Immigration Law, holds proper credentials, and is transparent about their fee structure. Lastly, schedule an initial consultation to talk through your case and determine if they are the right fit for your needs.
Immigration Advisers in Auckland
Instead of hiring a lawyer, you can work with an Immigration Adviser. They can do a similar job to Immigration Lawyers but charge less and are more easier to work with.
The best Immigration Advisers in Auckland are:
Immigration Advisers New Zealand Ltd: review 4.9 (1,075)
Livinginnz.co.nz: review 5.0 (81)
Malcolm Pacific Immigration Auckland: review 4,9 (390)
SEA International. Visa and Immigration Advisor: review 5,0 (688)
Prices that Immigration Advisers charge are usually lower than Immigration Lawyers do. Here are some examples of services and rates:
| Service | Average price |
| --- | --- |
| Quick consultation | $200 |
| Detailed consultation | $400 |
| Profile assessment | $200 |
| Visitor visa | $750 – $2,000 |
| Work visa application | $2,000 – $3,000 |
| Family or partner visa application | $1,500 – $4,000 |
| Complex cases e.g. deportation appeal | $3,000 – $4,000 |
Common rates of Immigration Lawyers in NZ
How much will you be charged? That's an important question for many as immigration is expensive on its own, so you don't spend anything unnecessarily. Below are the example of fees of Immigration Lawyers.
| Service | Average price |
| --- | --- |
| Consultation | From $190 |
| Visitor visa | $800 – $1,600 |
| Student visa | $800 – $2,000 |
| Work visa application | $2,000 – $3,500 |
| Residence application | $2,500 – $3,000 |
| Family or partner visa application | from $1,600 |
| Complex cases e.g. deportation appeal | Determined individually |
How much does immigration to New Zealand cost?
In many cases, the price you pay will be determined by the lawyer; it's not the fixed fee. The costs depend on these factors:
Complexity of the case
Urgency
Time spent basis on managing the immigration matter
Level of expertise required
Business-related costs
Top Immigration Lawyers in Auckland
Today, there are hundreds of Immigration Lawyers in the market. Your best bet is word of mouth or personal recommendation, but if you don't have these options, we have carefully selected the best and most professional Immigration Lawyers in Auckland.
1. Immigration Chambers Auckland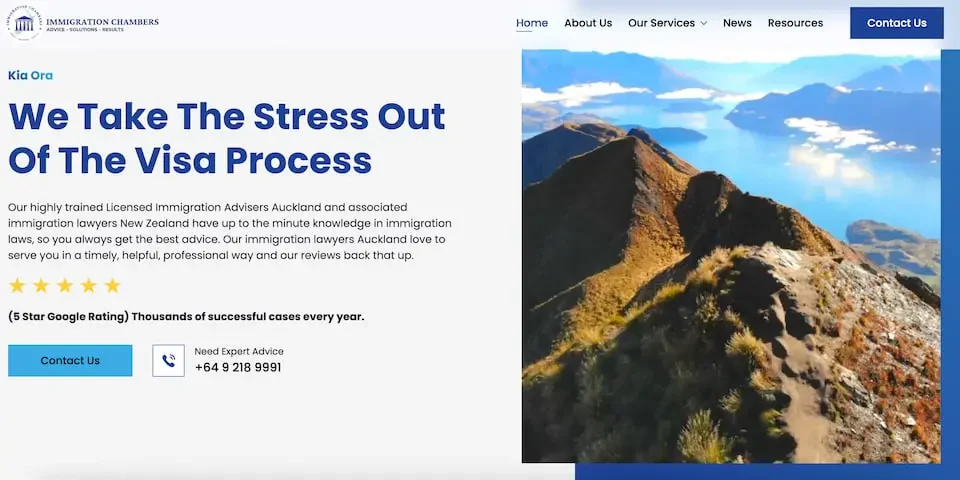 Address: Level 20, 191 Queen Street, Auckland
Immigration Chambers Auckland is a team of skilled Immigration Lawyers fueled by a deep passion for turning your immigration dreams into reality. 
With 215+ reviews, many of which are 5-star, it's hard to pick a better Immigration Law office in Auckland. The reviews are full of praise from clients with very satisfying experiences with the firm.
With a proven track record of success, they have earned their reputation by helping thousands of people with visa applications, covering everything from student visas to work visas, residence, and even family visas. 
David Fisher (founder), Valerie Hirsch, Ana Martins and Lucy He are some of the principal lawyers in Immigration Chambers Auckland's team. With decades of experience, they stand as seasoned immigration experts. They also have several licensed immigration advisers to assist customers. Similarly to Immigration Lawyers, they can handle all types of New Zealand visas.
Located in the heart of Auckland CBD, Immigration Chambers Auckland is a great place to start your immigration process.
2. Immigration Law Experts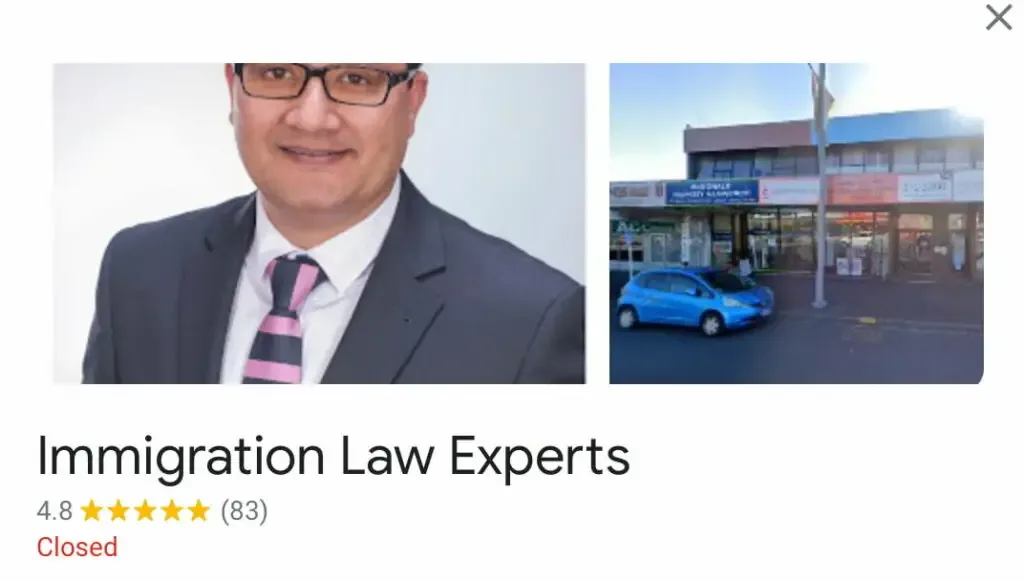 Address: 3/376 Great South Rd, Papatoetoe, Manukau, Auckland
Founded in 2015
Immigration Law Experts firm helps private customers and businesses in all immigration areas, including the toughest immigration cases. They have a proven record with 83 reviews with 4.8 out of 5-star rating on Google Reviews.
Immigration Law Experts offer a wide range of immigration services, including:
Free eligibility assessment
All types of NZ visas
Residence
Complex cases and appeals
Education services for international students
Overseas individual and family relocation
The Immigration Law Experts company has over 8 years of experience under their belt. Their office is located in the south of Auckland.
3. McClymont & Associates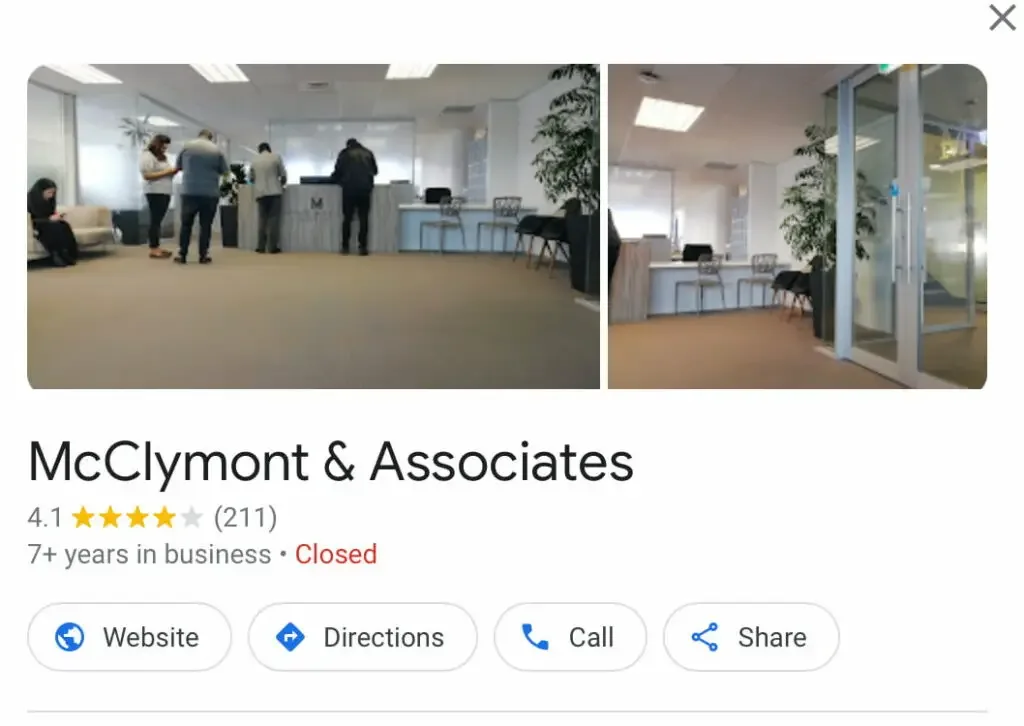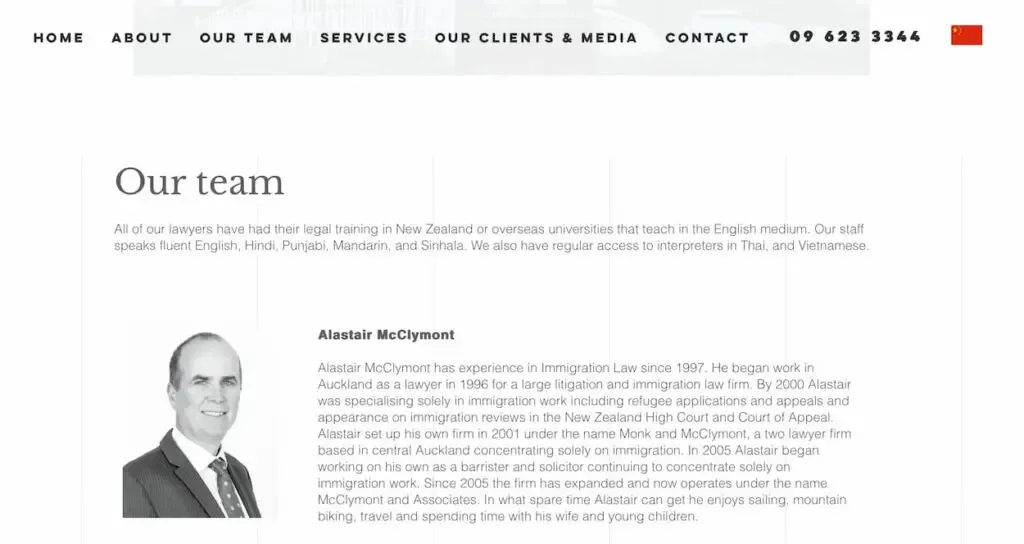 Address: 15 Surrey Crescent, Grey Lynn, Auckland
Founded in 1996 
McCloymont & Associates is a leading Immigration Law firm in Auckland. Their team of experienced Immigration Lawyers specializing in Resident, Work, Visitor, Student, Entreprenuer and Investor Visas as well as Appeals, Deportation hearings, and complaints.
McCloymont & Associates works with clients from all over the world. Hence, you can be located offshore and still get help from this law firm. Moreover, this firm has most of its clients from Asia, such as India, China, Cambodia and Vietnam. So, don't hesitate to contact McCloymont & Associates professionals if you are from one of these countries.
They also can deal with The Immigration & Protection Tribunal hears and determines appeals concerning:
decisions about residence class visas
decisions about the recognition of a person as a refugee or protected person
liability for deportation
decisions to stop recognizing a person as a refugee or protected person.
decisions to cancel the recognition of a New Zealand citizen as a refugee or protected person.
McCloymont & Associates offer a wide range of immigration services, including:
Visa applications
Residency applications
Citizenship applications
Appeals
Deportation hearings
Complaints
Besides being a member of New Zealand Immigration Advisers (IAA) and accredited by the Law Society of New Zealand, they should be your go-to option for experienced Immigration Lawyers in Auckland.
4. Jag Lal Immigration Lawyer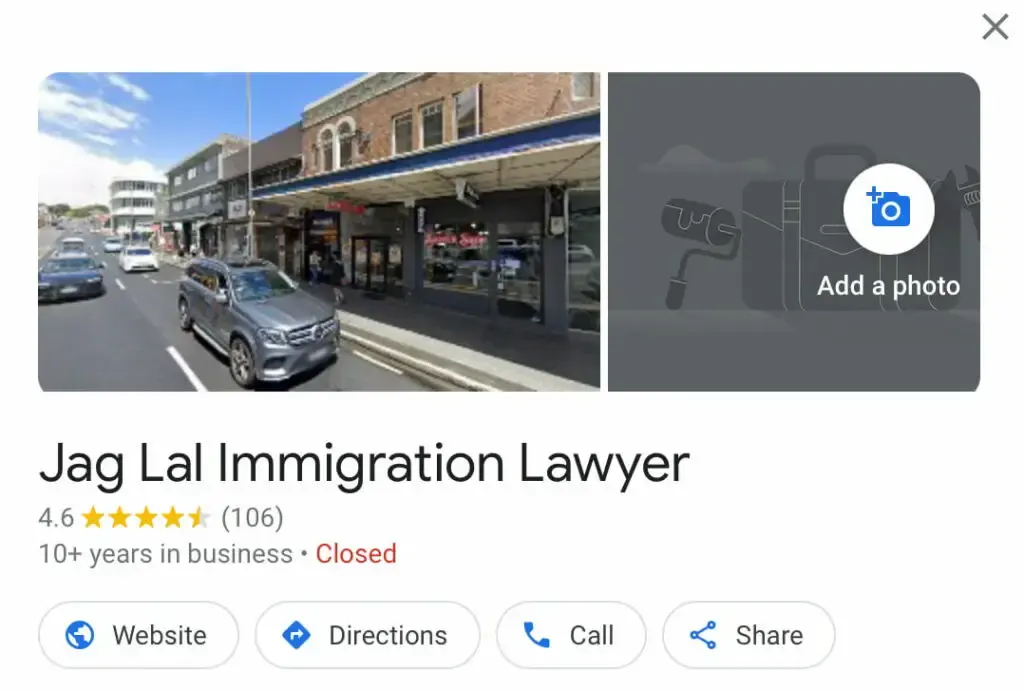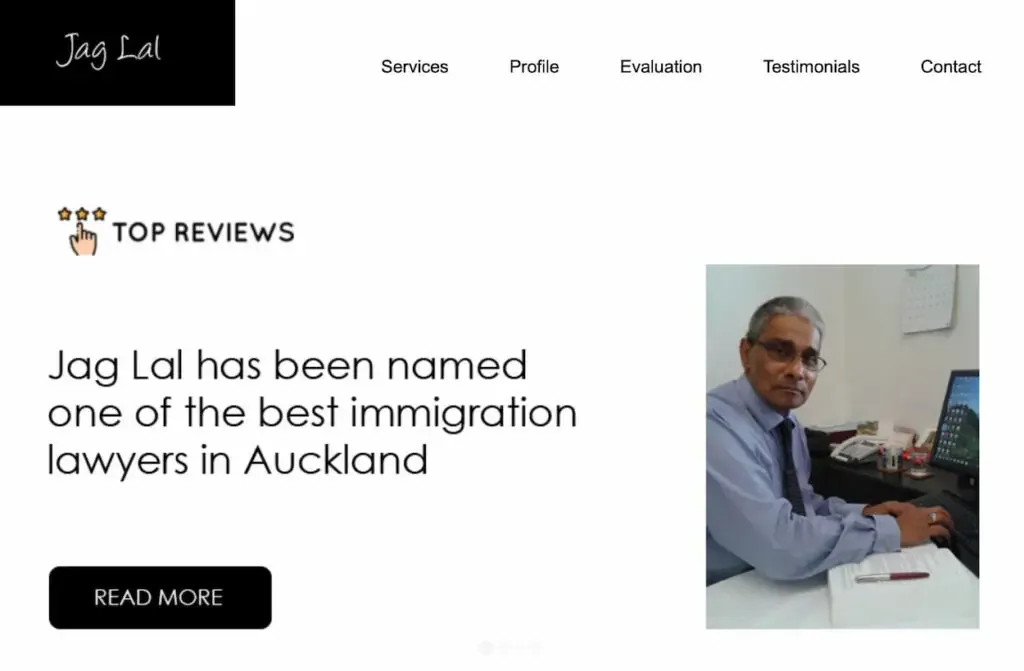 Address: 9 Remuera Road, New Market, Auckland
Founded in 1987
Jag Lal is one of the oldest Immigration Lawyers in Auckland, with over 30 years of experience in New Zealand Immigration Law. His Law firm is specializing in a wide range of visa types and complex immigration cases. Jag Lal holds a 4.6 out of 5-star rating on Google Reviews, backed by over 106+ reviews. Clients consistently praise the firm for its professionalism, expertise, and exceptional customer service.
With Jag Lal, you can get help with the Skilled Migrant Category, Entrepreneur Category, Students, Work & Visitor Visas, Refugee, Citizenship and Family Migration.
Jag Lal has expertise in family-based applications, expired visa cases, and prejudicial issues of character & medical or deportation.
At the helm of Jag Lal Immigration Lawyer is the principal lawyer, Jag Lal himself. With over two decades of experience, Jag Lal has become a highly skilled Immigration Lawyer renowned for his expertise in navigating intricate immigration cases.
The services they provide include:
Family migration
Work Visas
Residence Visas
Appeals
Miscellaneous Immigration Services
Employment Law
Commercial/Business Law
Family Law
Powers of Attorney
Wills
Choosing an Immigration Lawyer
It's a good idea to get recommendations from friends, family, or colleagues who have used Immigration Lawyers in the past. You can also search online for reviews of Immigration Lawyers in Auckland. 
Once you have found a few potential lawyers, be sure to have a call before signing anything to make sure they are a good fit for you. Ask them about their experience with the type of visa you are applying for, their fees, and their communication style. 
Most Immigration Lawyers offer a complimentary first meeting, do utilize it. From the first meeting, you should feel comfortable with the lawyer and confident that they can help you get the visa or residence you are looking for.